Boston Gas Permeable Lens Materials
The foundation for today's specialty lens practice
Boston is known for its GP solutions and lens materials, delivering a wide range or materials, manufacturing excellence and higher Dk levels (Boston XO and Boston XO2). Coupled with the newest scleral, orthoK, and multifocal lens designs, Boston enables you to offer patients the benefits of GP lens innovation.
While on this site, review the varying Boston materials to use for specific patient situations, as well as access all the educational guides, resources and training to support your practice.
Our commitment to education continues with a series of tools to help you stay informed. Consult our archive of educational videos.
For eye care professionals who care about their patients, material matters. And that material is from Boston.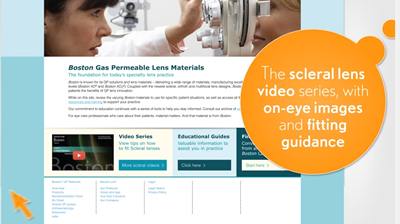 Application/Usage
Material
Daily Wear
All Boston materials
Thin designs
Boston ES and Boston EO
Ultrathin design
Boston ES
Toric design
All Boston materials
Presbyopic designs
All Boston materials
Scleral designs
Large diameter available in Boston XO, BostonXO2 and Boston Equalens II
Aphakia
All Boston materials, Boston XO and Boston XO2 have higher Dks
Post corneal
surgery fitting
Boston XO, Boston XO2, Boston ES and Boston EO
Extended wear
Boston Equalens II, Boston Equalens
Keratoconus
Boston II, Boston IV, Boston ES, Boston EO, Boston XO and Boston XO2
These recommendations will assist you in selecting a Boston material that is well-suited for its use.
| Brand | Dk Levels |
| --- | --- |
| XO2 (hexafocon B) | Dk 141 |
| XO (hexafocon 1) | Dk 100 |
| Equalens II (oprificon A) | Dk 85 |
| EO (enflufocon B) | Dk 58 |
| Equalens (itaflurofocon A) | Dk 47 |
| IV (itafocon B) | Dk 19 |
| ES (enflufocon A) | Dk 18 |
| II (itafocon A) | Dk 12 |
*Dk is measured in ISO/Fatt cgs units
Modern orthokeratology uses specially designed reverse geometry gas permeable (GP) ortho-k shaping lenses worn during sleep. This overnight wearing process provides a faster, more predictable result than early ortho-k attempts as practices in the 1980s using conventional, rigid contact lenses fitted incrementally flatter. Using this vision shaping technique, properly selected patients can go through the day wearing no correction and enjoy excellent visual acuity.
Using Boston Materials, you fit custom-designed orthokeratology lenses to reshape your patients' corneas overnight, so they're able to enjoy clear, crisp vision throughout the day - without glasses, contact lenses, or surgery.